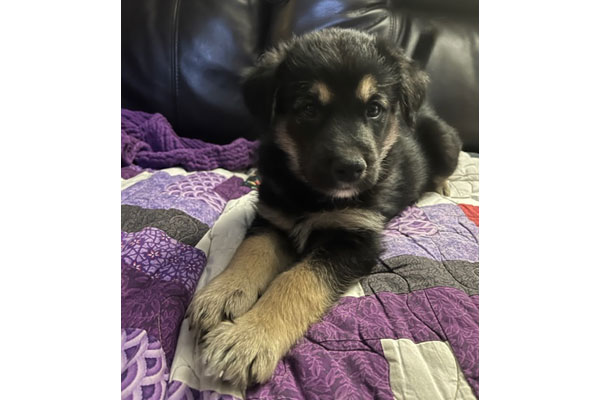 BREED: Irish Wolfhound mix
GENDER: Female
AGE: 6 weeks as of Feb. 10, 2023
SIZE/WEIGHT: Medium Large to Large when full grown
HISTORY: Born to a surrendered dog named Tiny, from a neglected yard in far Northern Alberta in freezing. All 3 rescued adult dogs were very hungry, dehydrated, scared, unsocialized and very scared. A rescue mission with two people, one an EMT to found about about the neglected dogs, drove 16 hours in a blizzard to get them.
TEMPERAMENT: A calm sweet puppy, absolutely darling!
PERSONALITY: Very cuddly and loves to play. Affectionate puppy and hops like a bunny, so cute!
BEST MATCH: An adopter to get them out for socialization all around town, lakes, parks, stores, cars, dog parks to run when bigger, outdoor fun adventurous lifestyle! Part of the family. Playdates with other puppies and dogs. Reward based training, teaching basics at this age with rewards. Mild reprimands if exhibit unwanted behaviour.
FAVORITE THINGS: Loves to play chase with toys!
NOTE: Puppy in foster care with Rose in Cochrane, Alberta.